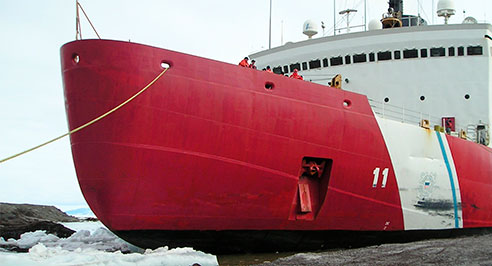 Russia to Build World's Largest Nuclear Icebreaker
The Atomflot company has announced the construction of a new nuclear ship. Appointed Leader, it will be 209 meters long and will be able to crush ice that is more than four meters thick.
---
A new Titan from the Far North will soon make way for ships through the ice floes. Russia's state-owned Atomflot, which manages and maintains the world's only nuclear-powered icebreakers in use, has announced the construction of a new steel monster. Called the Leader, this future icebreaker will be over 209 meters long and about 48 meters wide. This colossal ship will weigh almost 70,000 tons.
To move through the ice sheet at such tonnage, the ship will be equipped with two nuclear reactors that will supply more than 120 megawatts of power. Enough to allow the Russian ship to crush ice over four meters thick.
In warmer waters, the Leader will be able to travel at a speed of approximately 40 kilometers per hour. "Our nuclear icebreaker will be responsible for ensuring that other commercial ships have a safe passage through the Arctic seas throughout the year, including during winter," Atomflot said in a statement.
Better yet, the capabilities of the future icebreaker will allow you to free new routes through the ice floes to shorten the journey of other ships in this dangerous environment. Therefore, container ships will be able to take advantage of these new passages at the North Pole to reach Asia more quickly, from Europe, for example.
In addition to being used to clear sea corridors, nuclear icebreakers will play an important logistical role in transporting materials to Russian cities without roads or air links during the sea freeze. The Leader will launch in 2027.